SpiritApp
Premium HTML Templates
Multipurpose Landing Page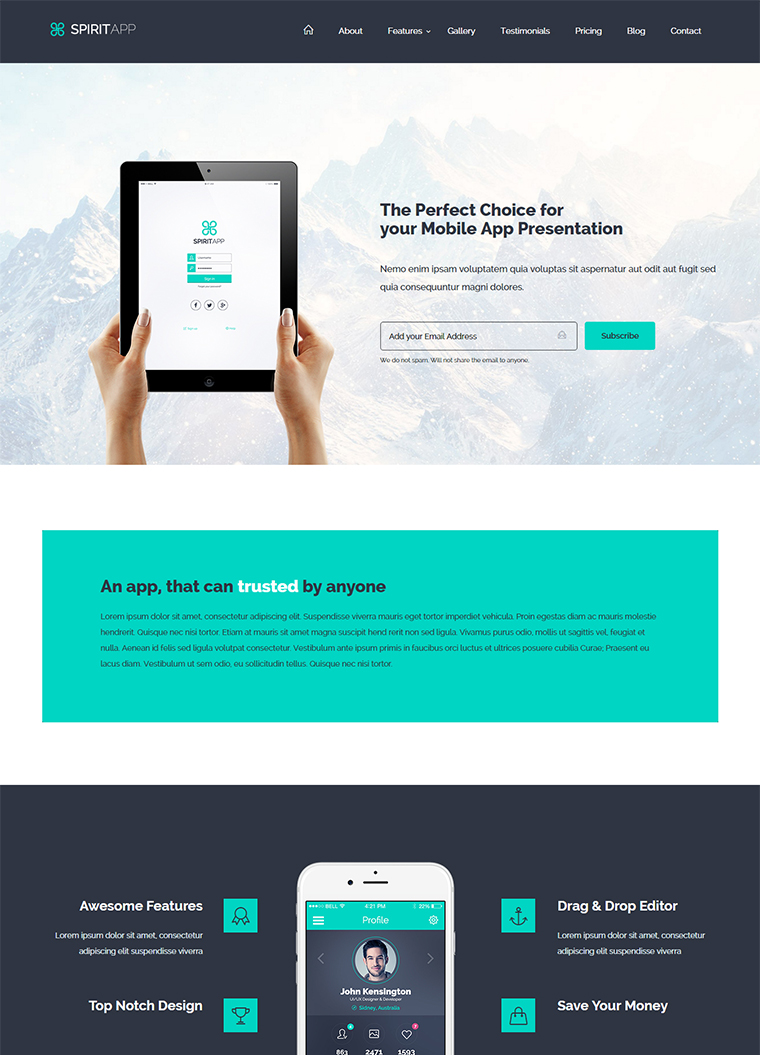 $19
BUY
Buy with confidence on theemon
Straight Forward Checkout
Lowest price guarantee
FREE Future Updates
6 months FREE Support
Live Preview
32
Sales
Released
23 October 16
Last update
23 October 16
File type

CSS Files

HTML Files

JS
Compatible with
Bootstrap 3.x
1.0.0 23 October 16
Published on ThemeForest
SpiritApp HTML Landing Page & UI Kit
A multipurpose app landing page and UI kit template, SpiritApp is the perfect option to promote your app for download. This app can be used for any kind of business such as corporate, mobile app presentation, magazine, freelancers, designer, photographer and many others. Packed with 14 landing pages, 20 specialty pages, 1500+ UI elements, 500+ design blocks and 36 blog pages, this SpiritApp gives you an array of options to choose the best one as per your requirements.
Fully Responsive

With the help of CSS media queries and fluid grid lay out, we are able to offer the users 100% responsive template. No matter if users prefer to open this SpiritApp on desktop or any small screen, its responsive approach that allows browsing with cross-platform compatibility.

Google Web Fonts

Aiming to provide the users with the option to make their website unique, this SpiritApp landing page and UI Kit comes fully equipped with Google web fonts. This allows the users to give their website a complete new look & feel and fulfill their other business needs.

Powered with Bootstrap 3x

SpiritApp landing page and UI Kit is built using BootStrap 3x that makes it easier in making the landing page template fully responsive and optimized. As a result, the website opens beautifully on all sorts of devices irrespective of their size without giving any blurred effect.

Retina Ready

This template is designed in such a way that it is retina ready. Equipped with an ultra-clear display and extra-sharp fonts, this template looks delightful when viewed on high definition retina displays. This SpiritApp provides visual treat when opened on any new generation device.

100% validated Code

In order to avoid any kind of errors or bugs in the template that makes the design unstable and less appealing, all the HTML and CSS code written by our developers are 100% validated by W3C. This ensures that the template made is of superior quality and can be navigated smoothly.

Font Awesome

SpiritApp Landing page and UI Kit is equipped with font awesome that gives ultimate freedom to the users to select from a wide range of fonts in order to enhance the overall appearance of the website. With the usage of these fonts, you can impress the users with style.
Fully Responsive SpiritApp - Landing Page & UI Kit Powered by Bootstrap3x
A set of multi-purpose templates, SpiritApp can widely be utilized by businesses of all sectors. Packed with astonishing features such as Bootstrap 3x powered, various UI kits and many more, this template is sure to meet all your needs and demands. The best part of this template is that it is compatible with several browsers such as IE10, Safari, Opera, Chrome, IE11 and Firefox.
Distinct Sliders
Responsive Layout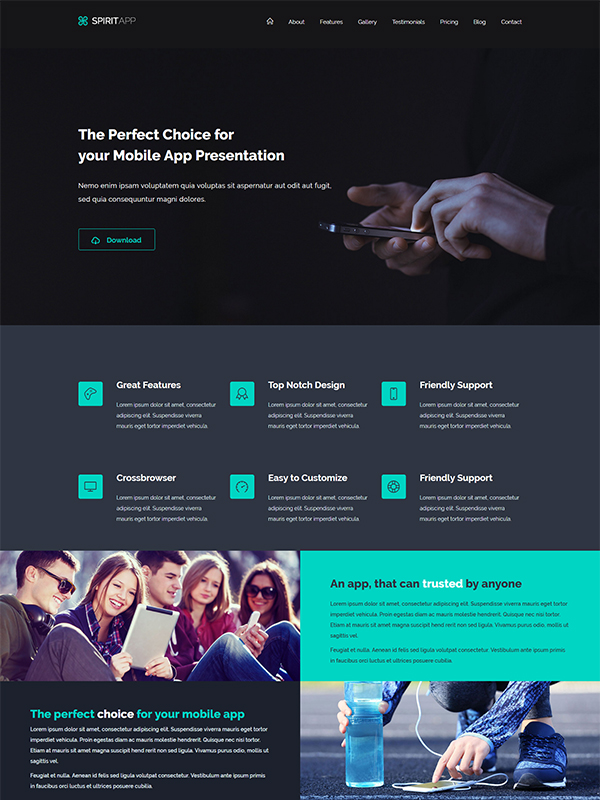 Unique Home Page Layouts
Packed with unique homepage layouts, this SpiritApp Landing Page and UI Kit can be utilized for the website to make them stand out of the crowd. The users get a multiple option of layouts to select from.

Multiple Color & Font Variations
SpiritApp helps you in making your website unique and distinct from others with the help of multiple color & font variations. The template is packed with an array of font and color options that can be utilized to give a stunning look.

A+ Grade PageSpeed
In order to keep the web pages lighter, our developers have used validated code and top quality images. As a result, it assures A+ grade pagespeed of the website and provide the perfect UX.

Blog Pages
Understanding the importance of blogs from marketing and SEO point of view, we offer this template packed with an array of pages. Equipped with all important features, these blog pages are sure to minimize your efforts.

Google Map API
Another important feature added to this template is Google map API. With the help of this feature, you can easily map your establishments on the map so that it becomes easier for your clients to locate theme easily.

Navigation Options
SpiritApp Landing Page and UI Kit is fully equipped with fixed, sticky & intelligent sticky navigation. This provide the users with a wide range of list of navigation options to select from.
Great themes with easy to manage code and exclusive features! Awesome company for technical assistance support. Thanks guyz for beautiful themes/plugins.

inkity
I purchased a product designer tool and I can surely tell that it is the most powerful and beautiful product designer tool I have ever used!!! Strongly recommend and hope the team and keep develop this great product!!

FrankWong
Love the themes and technical support I received from the experienced developers for my queries. Many thanks for getting me started.

safarigirl